GENERAL DESCRIPTION
The 16-passenger Humboldt Explorer Galapagos Islands liveaboard provides eight air-conditioned rooms located on the main and lower decks; each has a private bathroom, flat-screen television, and ocean view. All rooms except rooms 3 & 4 (forward below deck) can be converted to either one queen bed or two twin beds. The yacht features a partially covered sun deck with a hot tub and ample seating, a salon area with dining, a bar, and an entertainment area.

The large dive deck includes a bathroom, a large camera table with a charging station, individual storage areas, rinse bins for cameras, and another for gear. Diving operations are conducted from two large pangas (tenders), easily boarded from the dive deck.

TECHNICAL AND SAFETY FEATURES
Registry: Pto Baquerizo Moreno, Galapagos Islands
Length overall: 111.5 ft (34 meters)
Beam: 21.3 ft (6.5 meters)
Draft: 8.2 ft (2.5 meters)
Tonnage: 169 ITC
Main engines: Detroit Diesel 6V92, 350 hp
Generators: 2x Perkins 73 kw
Maximum Speed: 10 knots
Fuel Capacity: 5,300 gallons (20,000 liters)
Range: 1,800 nm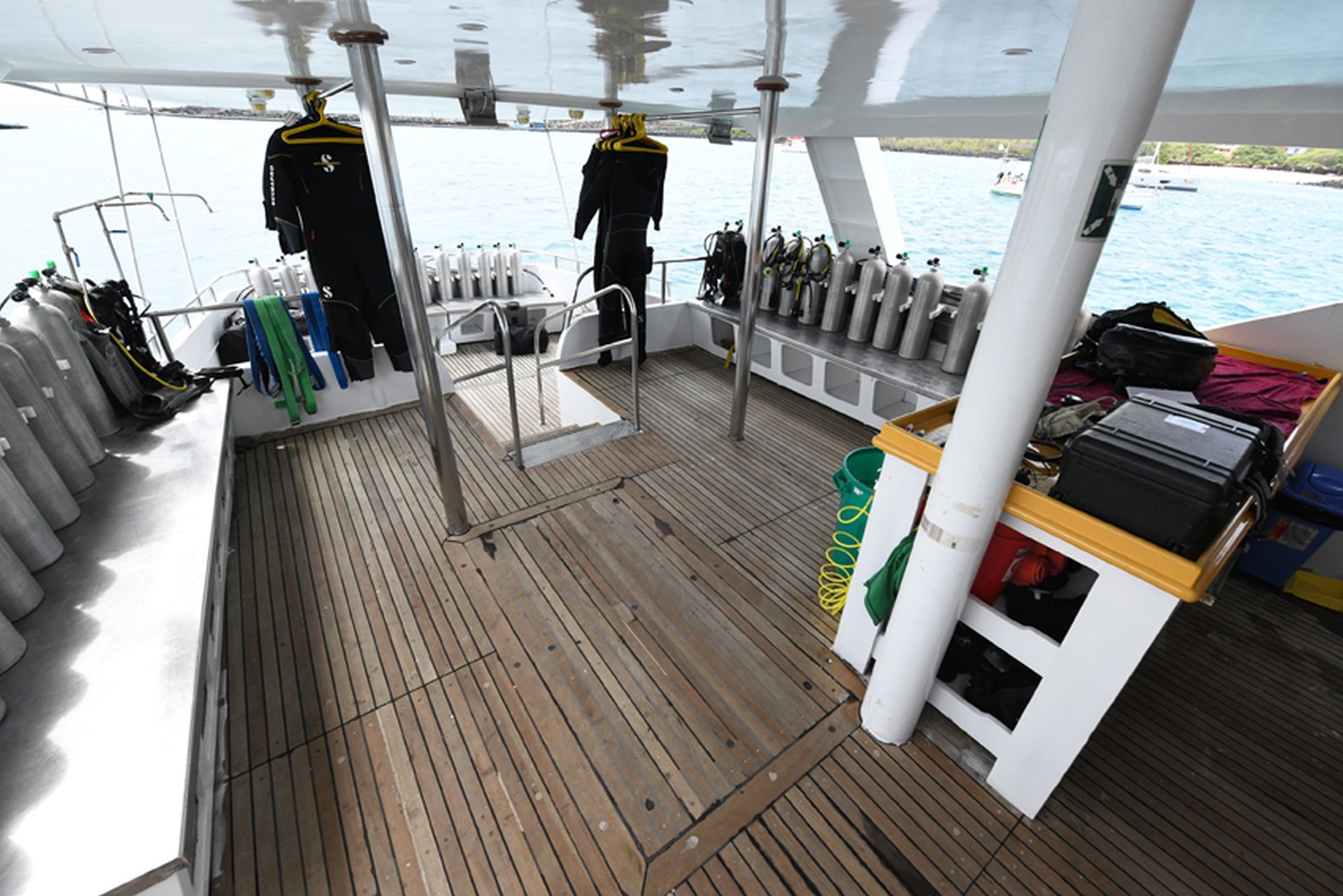 SUN DECK
The Sun Deck features a large lounge area, the partially covered sun deck and a hot tub with ample seating.

MAIN DECK
The Main Deck features two guest cabins, 1 & 2, each with private bath and shower, 1 queen or 2 twin beds, television, ample storage and provides guests with an ocean view; the dining area and large dive deck.

LOWER DECK
The Lower Deck comprises six cabins, 3-8, each with private bath and shower, television, window and ample storage. Cabins 3 & 4 have twin beds only. Cabins 5,6,7 & 8 have 2 twin beds or 1 queen bed.

Accommodations: 16 passengers in 8 air-conditioned rooms on main and lower decks, all with private bathrooms and showers. All rooms except rooms 3 & 4 (forward below deck) can be converted to either one queen bed or two twin beds. Up to 7 crew and 2 guides in crews' quarters.
Safety Equipment: Life rafts (2), life rings/strobes, life vests/strobes, emergency position locator, flares, oxygen and first aid equipment
Air Systems:2 electric Bauer compressors with nitrox membrane, producing 32% nitrox, bank storage
Tenders: Rigid hull inflatables (2), used for passenger transport and diver pickup
Accessories: Diving Equipment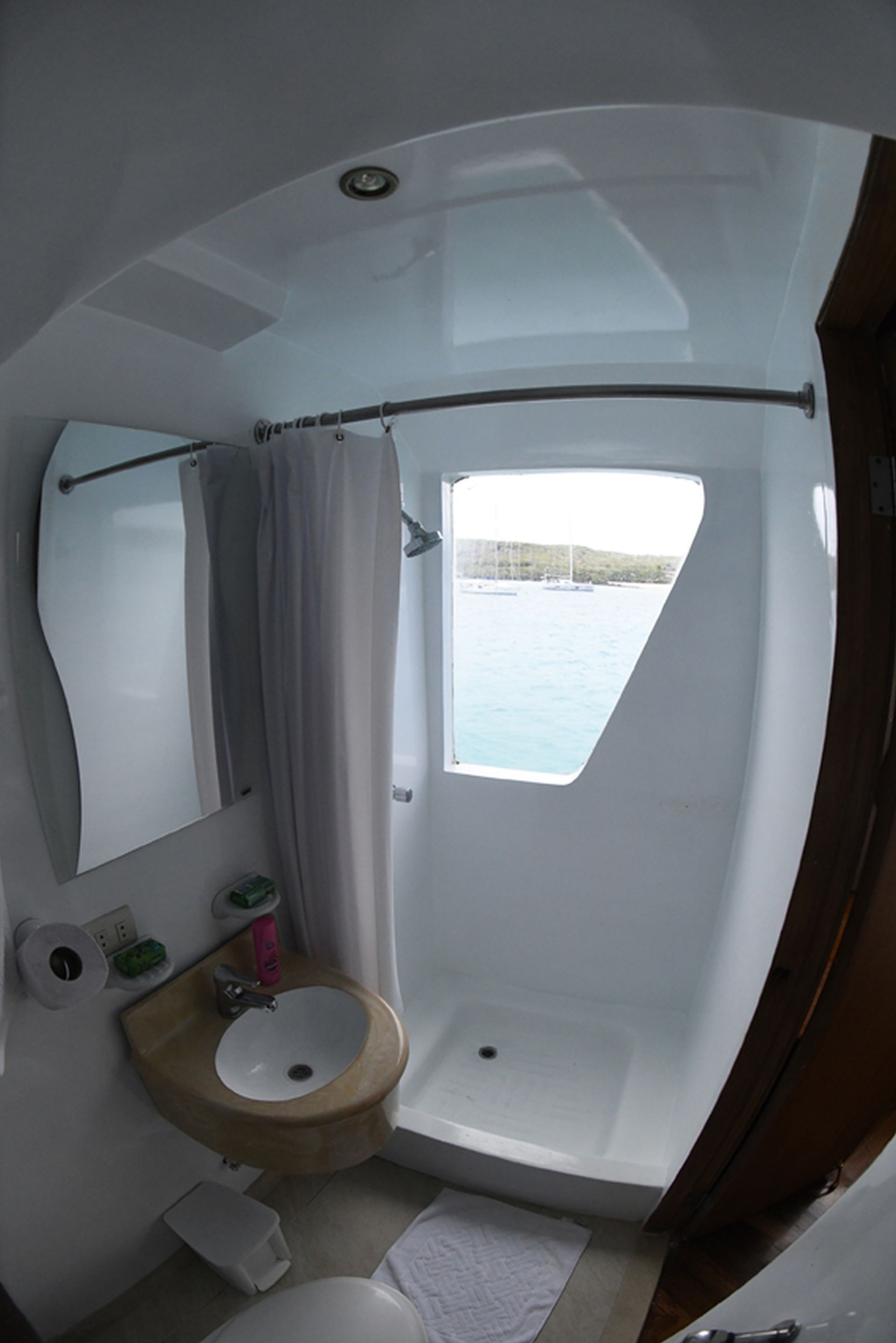 ITINERARIES:
ITINERARY A - 8 DAYS
Please note that all trips onboard Humboldt Explorer® are now operated from Baltra to Baltra (Airport code GPS). We will not sail from/to San Cristobal island anymore.

Monday:
Baltra
Guests fly to the Galapagos Islands from Mainland Ecuador, arriving in the late morning. The dive guides will meet the guests at the airport between 11:00 am and 12 pm and escort them to the Galapagos liveaboard, Humboldt Explorer. Guests will board the vessel, have lunch, organize equipment and listen to the safety briefings.

Tuesday:
Baltra North (2 Dives)
Equipement check, 7:00 and 10:00 dives
Sightings include rays and schools of fish.
Afternoon North Seymour land visit. Walk the path around North Seymour Island to see the large colonies of Blue Footed Boobies and Frigate Birds. Sighting of Sea Lions and Marine Iguanas are also common.
Depart for Northern Islands (long transit).

Wednesday:
Wolf Island (3-4 Dives)
10:30, 2:00 and 4:30 dives. Possible night dive.
Sightings often include hammerheads, whale sharks, eagle rays, sea lions, Galapagos sharks, and silky sharks.
Night anchor at Wolf Island.

Thursday:
Wolf Island (2 Dives)
6:30 and 9:30 dives
Transit to Darwin Island (2 Dives)
2:00 and 4:30 dives
Sightings often include hammerheads, red-lipped batfish, eagle rays, sea lions, Galapagos sharks, and silky sharks.

Friday:
Darwin Island (4 Dives)
6:30, 10:30, 2:00 and 4:30 dives
Sightings often include hammerheads, whale sharks (in season) eagle rays, Galapagos sharks, and silky sharks.
Transit to Wolf Island

Saturday:
Wolf Island (3 Dives)
6:30, 9:00 and 11:00 dives
Sightings often include hammerheads, whale sharks (in season), eagle rays, Galapagos sharks, and silky sharks.
Long transit to Cousin's Rock (20+ hours)

Sunday:
Cousin's Rock (1-2 Dives)
6:30 and 9:30 dives (number of dives dependent on travel time from Wolf Island)
This is great macro diving with an excellent chance of seeing sea horses, sea lions, and eagle rays. Lunch will be served while transiting to Santa Cruz (3 hours). Travel by bus to the Santa Cruz Highlands to visit the giant tortoises in their natural habitat. Visit the town of Puerto Ayora and the Darwin Centre on your own. Dinner on your own in Puerto Ayora. Return to the Humboldt Explorer at 8:30 pm.

Monday:Baltra
Depart the vessel by 9 am. Transfer to the airport.
READ MORE
Currents
One of the most challenging aspects of diving in the Galapagos is dealing with currents that can be too strong to swim against (2 to 4 knots at times). Overall, expect that currents will be moderate to strong. At most dive sites, the strength of currents is constantly changing, sometimes in the middle of the dive.
Drift Diving
Because there are currents throughout the islands, and dives usually follow the flow of the current, most dives in the Galapagos are considered drift dives.
Surge
Whenever current or swells are present, expect to find a surge in the shallow areas. After surfacing at the end of the dive, swim away from the island of rocks, out toward the blue so the dinghy can reach you easily, without worrying about being pushed onto the rocks by the surge.
Visibility
Although there can be 30m (100ft) visibility in the Galapagos, more often it is in the 10-21m (30-70ft) range.
Depth
Most dive profiles are in the range of 6-24m (20-80ft), although depths at most sites easily reach or exceed 40m (130ft). However, the greatest variety of life and activity is normally between the surface and 18m (60ft), so there is no need to dive deep in the Galapagos. The only time this general rule changes is during El Niño years when hammerheads and other sharks stay deeper, following their food sources and avoiding warmer water at shallower depths.
Water Temperature
Surface water temperature ranges from from18-25°C (64-77°F). In contrast, temperatures at depth can drop to 13°C (56°F) and thermoclines (generally occurring between depths of 12-18m (40-60ft) can result in a sudden drop in temperature by as much as 6-9°C within a few feet. You will frequently feel these changes in water temperature as you pass through upwelling of the deep ocean currents during a dive.
Wetsuits / Drysuits
Layering is the best plan for diving in the Galapagos. 7 mm wetsuit with a lightweight hood, booties, and gloves is a good option or a dry suit with a full 5 mm hood will keep most divers warm and toasty.
Spacious
Social Areas
The social areas have ample spaces to spend time and relax, whether enjoying a glass of good wine.
Humboldt Explorer Yacht RATES 2023 Per person
| ACCOMMODATION | 8 days |
| --- | --- |
| All Staterooms | July 2022 - June. 2024: $6,195 |
| All Staterooms | July 2024 - June 2025: $6,295 |
REQUEST INFORMATION
INCLUDE:
7 nights/8 days aboard the vessel; up to 4 dives daily (weather permitting); 3 meals daily, except Sunday's evening meal; between-dive snacks; towels; use of tanks, weights and weight belts; all air fills; fuel tax; transfers between airport (Baltra/GPS) and vessel for same day arrivals & departures; local alcohol and non-alcoholic beverages; 2 land excursions (weather permitting). Rates may increase for existing reservations and will be confirmed no later than 12 months before the charter departure date.
NOT INCLUDE:
Roundtrip flight to Galapagos Islands.


Airport taxes; transit nights in Quito or Guayaquil; Galapagos National Park fee, chamber support fee, tourist card; nitrox, rental gear & dive courses; travel and dive insurance; fuel surcharge. Airfare to Galapagos Islands and land options before/after cruise are available at additional cost. Guaranteed Single Occupancy is billed an additional 80% of the retail stateroom price.