GENERAL DESCRIPTION
Galapagos Master is a 32 metre vessel which underwent a complete interior refit to the highest standards in 2015, now sailing to some of the top dive sites in the Galapagos.

She welcomes a total of 16 divers on each liveaboard trip, maximising safety and comfort for all guests on board. She features eight air-conditioned cabins spread across three decks with each cabin offering stunning views of the Galapagos archipelago. Each cabin has its own private en-suite bathroom with hot water, and ample storage room for all of your personal belongings. For your added convenience and flexibility, Galapagos Master offers cabins that can be used either as a twin or as a double bedded room.

The communal areas available to guests include a spacious indoor lounge on the middle deck. Relax and unwind from your day's diving while watching your favourite movie or your latest underwater shots on the plasma screen television. The indoor dining area brings you a tantalising array of mouth-watering meals, complimented by the adjacent cocktail bar. Photographers can take full advantage of the indoor camera set-up station which includes multiple charging points (US round pin plug). Additional storage drawers to the aft of the vessel mean that even photography charter groups will have no problem finding enough space for their equipment.

Galapagos Master's top sun-deck ensures that sun worshippers can top up their tan while soaking up the Galapagos sights. Or, for those who prefer to relax out of the sun, the shaded upper level is an ideal location to chill out in cushioned lounge chairs and benches.

The steel vessel is steadier than most due to the fact that it has been designed to be lower to aid stability and speed. The boat has an official license to operate and organise diving activities in the Galapagos issued by the Ecuadorian government and the National Institute of the Galapagos ensuring you that all the safety tests have been passed as well as complying with the strict environmental rules of the park. With all the latest safety devices – GPS, VHF radios, satellite communication, two life rafts, emergency oxygen and AED – you will know you are travelling in total protection and safety.

TECHNICAL AND SAFETY FEATURES
Vessel type: Motor
Year built: 2001
Length: 32m
Width: 7.5m
Capacity: 16
Hull: Steel

Diving facilities
Diving courses: No
Rebreather friendly: No
Equipment rental: Yes
Nitrox membrane: Yes
Charging station: Yes
Photography friendly: Yes
Compressors: 3 x Coltri-sub
Tenders: 2
Guides: 2

Technical
Length: 32m
Width: 7.4m
Engines: 2
Generators: 4
Hull: Steel
Fresh water maker: 2

Safety
First aid: Yes
First aiders: Yes
Emergency Oxygen: Yes
Oxygen administrators: Yes
Life Jackets: Yes
Life Rafts: Yes
Tender safety boxes: Yes
VHF ship to tender radios: Yes
ITINERARIES:
ITINERARY A - 8 DAYS
Day 1: Embarkation at 14:00

Days 2-6 are typically scheduled as follows:

- Light Breakfast followed by a briefing and dive 1

- Full Breakfast, relaxation period, briefing and dive 2

- Lunch, relaxation period, briefing and dive 3*

- Snack relaxation period, briefing and dive 4*

- Dinner

Day 7: Maximum 2 morning dives; afternoon visit to Charles Darwin Station

Day 8: Disembarkation at 08:00 and visit to Interpretation Center

*On days where afternoon land tours are included, only 2 morning dives will be offered.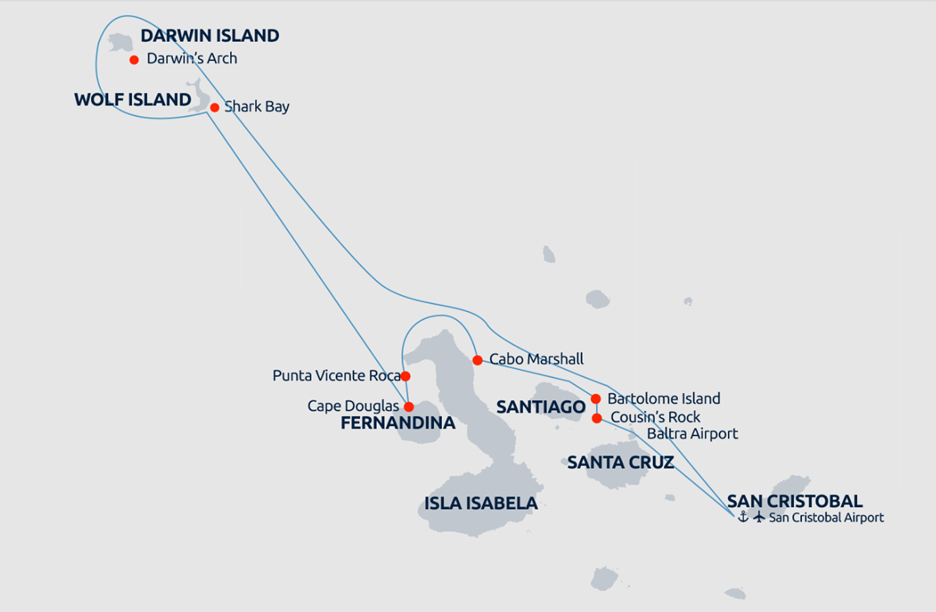 READ MORE
Currents
One of the most challenging aspects of diving in the Galapagos is dealing with currents that can be too strong to swim against (2 to 4 knots at times). Overall, expect that currents will be moderate to strong. At most dive sites, the strength of currents is constantly changing, sometimes in the middle of the dive.
Drift Diving
Because there are currents throughout the islands, and dives usually follow the flow of the current, most dives in the Galapagos are considered drift dives.
Surge
Whenever current or swells are present, expect to find a surge in the shallow areas. After surfacing at the end of the dive, swim away from the island of rocks, out toward the blue so the dinghy can reach you easily, without worrying about being pushed onto the rocks by the surge.
Visibility
Although there can be 30m (100ft) visibility in the Galapagos, more often it is in the 10-21m (30-70ft) range.
Depth
Most dive profiles are in the range of 6-24m (20-80ft), although depths at most sites easily reach or exceed 40m (130ft). However, the greatest variety of life and activity is normally between the surface and 18m (60ft), so there is no need to dive deep in the Galapagos. The only time this general rule changes is during El Niño years when hammerheads and other sharks stay deeper, following their food sources and avoiding warmer water at shallower depths.
Water Temperature
Surface water temperature ranges from from18-25°C (64-77°F). In contrast, temperatures at depth can drop to 13°C (56°F) and thermoclines (generally occurring between depths of 12-18m (40-60ft) can result in a sudden drop in temperature by as much as 6-9°C within a few feet. You will frequently feel these changes in water temperature as you pass through upwelling of the deep ocean currents during a dive.
Wetsuits / Drysuits
Layering is the best plan for diving in the Galapagos. 7 mm wetsuit with a lightweight hood, booties, and gloves is a good option or a dry suit with a full 5 mm hood will keep most divers warm and toasty.
Spacious
Social Areas
The social areas have ample spaces to spend time and relax, whether enjoying a glass of good wine.
PREMIUM TWIN OR DOUBLE CABIN
Located on the upper deck of the vessel, these spacious cabins offer flexible accommodation for two guests in either twin single beds or one double bed and provide stunning views along with ample storage and ensuite facilities.

Galapagos Master Yacht
RATES 2023 Per person
| ACCOMMODATION | 8 days |
| --- | --- |
| All Staterooms | $9,450 |
REQUEST INFORMATION
INCLUDE:
7 nights full board accommodation includes breakfast, lunch, dinner and snacks
Unlimited tea, coffee, fruit juice, soft drinks and drinking water
Bath towels, deck towels and shampoo
Up to 4 dives per day
Single 11 Litre (AL80) cylinder with air fills
Weights and weight belts
Land tour on North Seymour and Santa Cruz
Disembarkation transfer
NOT INCLUDE:
Roundtrip flight to Galapagos Islands.
All guests are required to have travel and diving insurance
Galapagos National Park Fee : 100 USD per trip, to be paid at the airport
Ingala Transit Control Card : 20 USD per trip, to be paid at the airport
Extra cost
PLEASE NOTE: We are unable to accept debit or credit cards on Galapagos Master. All payments on board need to be made in CASH only.
Nitrox
Alcoholic drinks
Crew gratuities
Laundry
Equipment rental:
BCD : 72 USD per trip, to be paid in advance, on board
Fins : 30 USD per trip, to be paid in advance, on board
Wetsuit (7mm Full-length) : 72 USD per trip, to be paid in advance, on board
Dive Computer : 72 USD per trip, to be paid in advance, on board
Regulators : 72 USD per trip, to be paid in advance, on board
Booties : 30 USD per trip, to be paid in advance, on board
Mask : 30 USD per trip, to be paid in advance, on board
Full Equipment (excl. computer and torch) : 270 USD per trip, to be paid in advance, on board
12 Litre steel cylinder : 72 USD per trip, to be paid in advance, on board
15 Litre cylinder : 72 USD per trip, to be paid in advance, on board
Gases:
Standard Nitrox Package : 150 USD per trip, to be paid in advance, on board

| | | |
| --- | --- | --- |
| Equipment | 7 NIGHTS | 10 NIGHTS |
| Full set* | 270 USD | 405 USD |
| BCD | 72 USD | 108 USD |
| Booties | 30 USD | Description |
| Dive Computer | 72 USD | 108 USD |
| Fins | 30 USD | 45 USD |
| Mask | 30 USD | 45 USD |
| Regulators | 72 USD | 108 USD |
| Full-length wetsuit | 72 USD | 108 USD |
| 12L (Steel) cylinder | 72 USD | 108 USD |
| 15L cylinder | 72 USD | 108 USD |
| | | |
| --- | --- | --- |
| | 7 nights: | 10 nights: |
| Nitrox | 150 USD | 225 USD |
| | |
| --- | --- |
| Beer | 3.50 USD |
| Spirits | 6 USD |
| Cocktails | 8 USD |
| Wine (per bottle) | 30 USD |
| Laundry (per item) | 1 USD |
| Merchandise (starting from) | 15 USD |