GENERAL DESCRIPTION
The Galapagos Aqua yacht is the ideal boat for divers and adventure lovers of all ages! It offers a unique combination of both liveaboard diving safaris, including the best diving sites of the archipelago, as well as naturalist cruises for seeing what makes the islands themselves so special, something that should not be missed when visiting the Galapagos Islands. Combine the incomparable diversity above and under the waves at truly the best value available!

Unbeatable Value for both our Liveaboard Diving cruises (7 nights only) and Naturalist Cruises (3, 4 or 7 nights available) which can be easily combined.

Our Liveaboard Diving cruises visit the most exceptional highlights of the Galapagos Marine reserve, including Darwin & Wolf Islands.

Naturalist cruises with soft adventures for all ages, such as snorkeling, kayaking, wildlife interpretation hikes and occasional diving.

Comfortable en suite cabins, including full size double beds on the lower and main deck and ocean view windows on the main and upper deck cabins.

TECHNICAL AND SAFETY FEATURES
Capacity: 16 Passengers
Model: NA
Year: 2021
Power: Information not available
Speed: 10.00 [Knots]
Type: Information not available
Length: 25.00 [Mt]
Width: 5.50 [Mt]
Draft: Information not available
Water Capacity: Information not available
Fuel Capacity: Information not available
Zodiac: 2
Here at Galapagos, we pride ourselves on our diving safety record. That is why all our staff has been trained in primary first aid and secondary care, and no expense has been spared in relevant safety departments. We have a fully stocked first aid kit on board, as well as emergency oxygen and a trauma kit.

Every effort has been made to attain high-security standards. On the bridge, we have an EPIRB, marine rescue GPS to locate our divers, long-range radio phone (for use in emergencies only), FM and SW Radio, and VHF and SSB radio. There are also fire detectors throughout the boat and a large number of fire extinguishers. All of our staff are trained by a fire control specialist in the unlikely event of an outbreak. There is also an adequate number of personal flotation devices and lifebuoys.
ITINERARIES: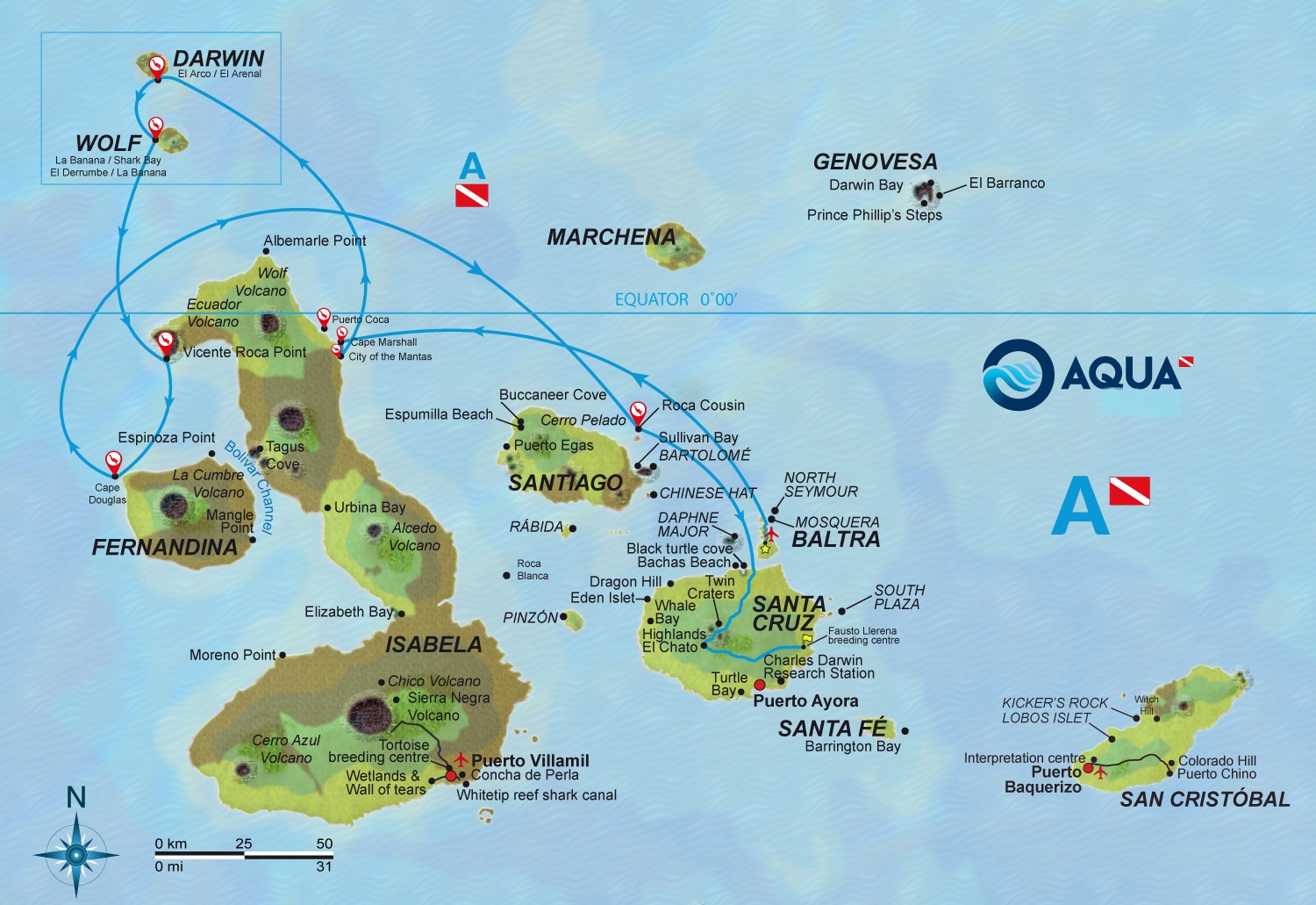 ITINERARY A - 8 DAYS
TUESDAY
AM: Liveaboard diving cruise starts at Baltra airport (GPS) PM: Baltra North East (Check Out Dive)
WEDNESDAY
AM: Bartolome (1 Dive)
PM: Cousin's Rock (2 Dives)
THURSDAY
AM: Wolf (4 Dives)
PM: Wolf (4 Dives)
FRIDAY
AM: Darwin (4 Dives)
PM: Darwin (4 Dives)
SATURDAY
AM: Wolf (3 Dives)
PM: Wolf (3 Dives)
SUNDAY
AM: Vicente Roca Point (1 Dive)
PM: Cape Douglas (1 Dive)
MONDAY
AM: Roca Blanca (1 Dive) / Pinzon (1 Dive)
PM: Late afternoon arrival Puerto Ayora (Santa Cruz) at leisure
TUESDAY
AM: Santa Cruz Highlands Giant Tortoises visit
Baltra: Transfer to the Airport

READ MORE
Currents
One of the most challenging aspects of diving in the Galapagos is dealing with currents that can be too strong to swim against (2 to 4 knots at times). Overall, expect that currents will be moderate to strong. At most dive sites, the strength of currents is constantly changing, sometimes in the middle of the dive.
Drift Diving
Because there are currents throughout the islands, and dives usually follow the flow of the current, most dives in the Galapagos are considered drift dives.
Surge
Whenever current or swells are present, expect to find a surge in the shallow areas. After surfacing at the end of the dive, swim away from the island of rocks, out toward the blue so the dinghy can reach you easily, without worrying about being pushed onto the rocks by the surge.
Visibility
Although there can be 30m (100ft) visibility in the Galapagos, more often it is in the 10-21m (30-70ft) range.
Depth
Most dive profiles are in the range of 6-24m (20-80ft), although depths at most sites easily reach or exceed 40m (130ft). However, the greatest variety of life and activity is normally between the surface and 18m (60ft), so there is no need to dive deep in the Galapagos. The only time this general rule changes is during El Niño years when hammerheads and other sharks stay deeper, following their food sources and avoiding warmer water at shallower depths.
Water Temperature
Surface water temperature ranges from from18-25°C (64-77°F). In contrast, temperatures at depth can drop to 13°C (56°F) and thermoclines (generally occurring between depths of 12-18m (40-60ft) can result in a sudden drop in temperature by as much as 6-9°C within a few feet. You will frequently feel these changes in water temperature as you pass through upwelling of the deep ocean currents during a dive.
Wetsuits / Drysuits
Layering is the best plan for diving in the Galapagos. 7 mm wetsuit with a lightweight hood, booties, and gloves is a good option or a dry suit with a full 5 mm hood will keep most divers warm and toasty.
Spacious
Social Areas
The social areas have ample spaces to spend time and relax, whether enjoying a glass of good wine.
INCLUDE:
Lodging on board in cabin with private facilities.
All meals, water, coffee and tea.
All diving and visits as mentioned in the itinerary (please note that the itinerary is subject to change).
English-speaking dive instructor
All transfers in the Galapagos (airport-yacht-airport).
For our diving liveaboards: 12 L tanks for enriched air, weights, belts, and scuba safety equipment
(personal marine rescue GPS, storm whistle, diving beacon, and surface marker tube).
Towels
NOT INCLUDE:
Roundtrip flight to Galapagos Islands.
Galapagos National Park entrance fee (USD 100 pp) and Transit Control Card (USD 20 pp).
Full diving equipment rental (BCD, regulator, mask, fins, 7 mm wetsuits, hoods, gloves, boots, dive computer, and torch) and nitrox (USD 150 pp).
Soft and alcoholic drinks, tips, travel insurance (medical coverage, trip cancellation and dive accident insurance) and other items of personal nature.
Please note that the flight rates and entrance fees are subject to change.